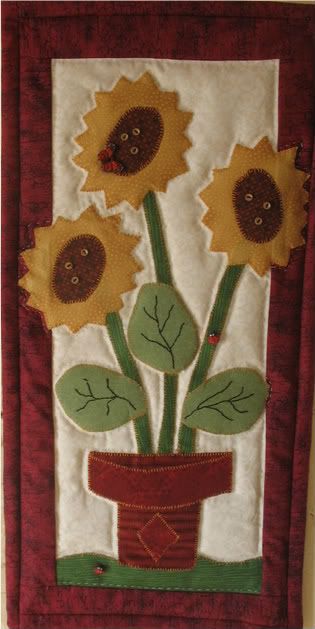 My little wall hanging is finished. What a fun feeling to tie off the last stitch last night. It is way cuter than I thought it would be when I first laid out the pieces. In fact, about the time I ironed on the appliques, I decided I didn't like it at all. Since it was a kit, I didn't get to choose the fabrics. It just seemed bland and uninteresting, but I didn't want to waste it either.
On I sewed.
Thankfully, too, because the more detail I added, the more life the quilt took on. By the time I added the embroidery and ladybug buttons I rather liked it. Quilting only added more depth.
I'm finding I have the same sticking points when it comes to a story. About a third of the way into the script I realize I
thoroughly
dislike the characters I've created. Bland, uninteresting, and one
dimensional
. They certainly aren't doing anything of interest. At that point, my MO has been to put the mess aside and do something else. Usually create new characters, who like someone on a first date, seem enchanting and intriguing.
I'm learning my characters and story are a bit like my wall hanging. Boring until added details give depth and interest. What I've learned is that I can't quit on a story. I have to push on through, keeping the characters moving until they finally *do* somthing worth reading.
Here's to pushing through and adding details.