This little flower bucket hangs by the front door. I change the silk flowers seasonally. The other day, I noticed someone else had taken possession of it.
Can you find the three babies snuggled in there?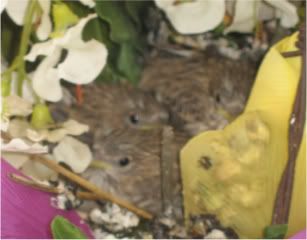 These are house finches. Mom is rather drab, but dad has a colorful red neck. They get mighty nervous when we head out to the front porch. It is a special blessing to have babies on the place.
Sorry I've dropped off the planet for the last week or so. We moved Nathan's graduation up a few weeks to the third weekend in May. Once we made that decision, we had to get in high gear to get senior portraits created (boy, am I out of practice!) get invitations done, addressed and mailed. All while maintaining our standard crazy baseball, work, and church schedule. Being the vain gardener gal that I am, I also felt like I *had* to get some plants and seeds in the ground so they'd look good for the shindig after the ceremony. Had, I tell ya, had to.
Thanks to those who've checked up on me. I appreciate your caring!