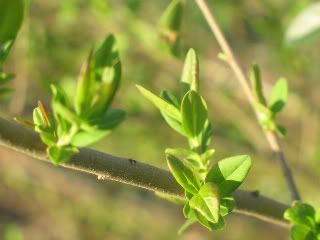 Spring makes me antsy to plant, start new projects and learn new things. Grow, change, do. In short, to CREATE. Maybe it does the same for you, too. I got to thinking it was time for a challenge.
Here's my challenge...create something that says spring to you. It could be a quilt block, a poem, a collage, a photo, or a planter filled with spring color. Maybe you'll whip out a paint brush to dash something wonderful on canvas or maybe you'll pick up a pen and create a fabulously fantastic short story. Do whatever floats your boat. Just keep spring as the theme.
Then...send a copy of your writing or a photograph of your creation to:
debsmuse AT ONE scom DOT net
(replace all caps words with symbols and squish the whole thing together.)
There will be a couple of prize packages for the two most favored by my trusty team of judges, nothing terribly fancy, but fun, nevertheless. Best of all, you'll have the pleasure of bragging about winning a contest on my blog! Feel free to invite other blogging buddies to enter as well.
We'll have a quick deadline...April 9th...so you've got three weeks. Now...shake off those winter blahs and get creating!