Here is a special ta-
da
. I finished this long narrow wall hanging the other day. I'm so pleased with how it turned out because it has a very sentimental meaning. Let me explain...
I'm one of six sister-in-laws. The Pilot Guy is one of six sons in his family, no biological sisters. Some time ago, we ladies decided to do a cross-stitch exchange project. There were specific details on size and we had an entire year to complete all of them. When did we do this, you ask?
Nineteen years ago.
At Christmas in 1990, we gathered to exchange our work. Unfortunately, one of my sis in laws chose not to do a cross stitched piece. We'd all done one for her, but... Well, you can imagine that the rest of us were somewhat
flummoxed
by the situation. How could we put together our projects if one of us hadn't participated? It was an odd and awkward situation for us. Five of us put our exchanged pieces away safely and hoped for wisdom. It wasn't long before time swept us on and I, frankly, forgot about the project.
A few years after this, our sis in law #2 became ill. For years she fought to live as normal and as long a life as possible, but lost the battle in early 2007. To say we mourned is an understatement. I wish you could have known her. She was a
genuine
Creative Soul.
Not long after that, wise quilting sis-in-law #1 dug out her cross-stitch pieces and made a delightful wall hanging from them. She generously offered to do the same for any of us. Somehow it was much easier to not worry about the missing piece from the sis in law who didn't participate. Over the years, she had decided not to participate in many things with the family. I guess we were used to it by then. And we really needed to honor the work of the sis in law who had died.
So...now I've put mine together. It was such a sweet pleasure to work with these pieces. I love these women beyond words....and miss the one who sews in heavenly sewing rooms these days tremendously. They are both sisters of the heart and dear friends.
From Trae...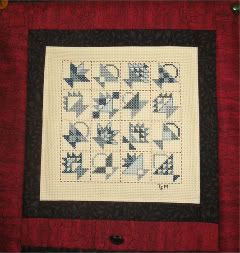 From Hermion, who died in 2007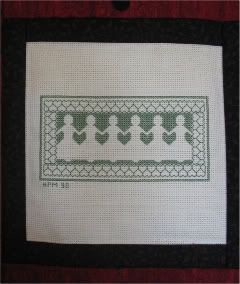 From Denise...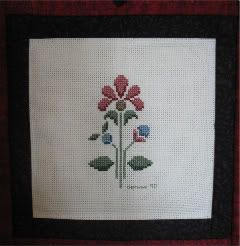 From Tina...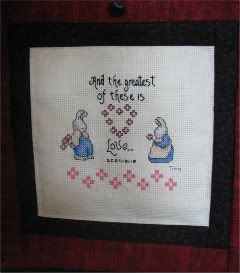 Mine is the blue one in the middle, since I'm married to a middle guy.
I also finished a few more porch pillows. Fun and fast. Way better than the blah store bought ones that had been there. I suspect I'll collect outdoor fabric and keep on making these. I like them.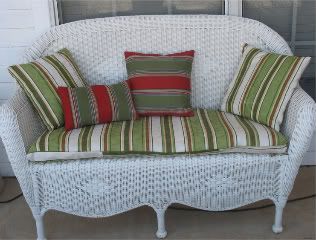 I've also finished the baby gift, but haven't photographed it yet.
What have you completed or worked on this week?