Happy Leap Day!
This is our bonus day this year. How will you use this day?
For Ta-Da Friday.....
I wrote 516 words on a homeschool topic.
Pieced a bit on my quilt project.
Re-did the Bonjour tin bucket with spring silk flowers.
Took a few photos.
Did some 'constructive staring' at a future flowerbed.
Wandered a plant nursery and drooled over all the new spring stock.
What happened in your creative life this week?
Here's the view from my bedroom window this week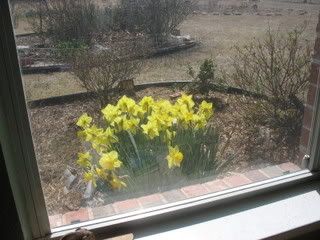 Not only are the daffodils in raging bloom, the roses are leafing out.