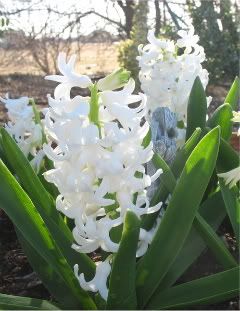 How did it get to be March already?
Here's a few things I want to accomplish this month...
finish the Mission's policy book for our church (depends on other people...so....it may spill over into April)
write a couple of memoir stories
write a couple of short pieces, fiction or non-fiction
Oversee completion of The Baseball Guy's research project prior to spring break
Oversee the beginning of another research project. (He is going to be SO happy.)
school, school, school
begin planning The Baseball Guy's graduation ceremony and party
finish, package, and send baby gift to little Gracelyn.
begin the garden wall hanging
finish the porch swing pillows
make a half dozen ATCs
pursue more stained glass
get the veggie garden ready for planting. Plant by month's end. (do you see my gleeful smile?)
start some more seeds in pots
add plants and stepping stones to landscape the new front flower bed
paint the small table, chairs
repaint the purple swing (It will stay purple, but the paint finish is damaged. It needs sanding and repainting)
Well....that ought to keep me out of trouble...or up to my mascara in trouble, depending on your point of view. I know I'm being optimistic...this is baseball season after all. Still, writing out goals helps me stay focused.
What's on your to-do list?