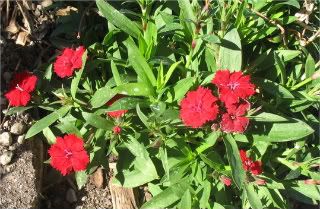 Time after time in my writer's group, I've seen it.
The stunned, baffled, and eventually muley look that says I can't believe y'all don't get how
brilliant
I am. We see it most often on a new member. Some one who says they want feedback and information on their writing, but secretly knows we will swoon with admiration the minute we hear their poetry or prose.
It's often a rude awakening to find out that most of us are swoon proof.
We are kind. We applaud the effort, but we offer--gently--truth.
As I watched the auditions for American Idol this year, I was struck again by how unprepared we are to accept honest feedback and simple critique. After being given a no by the professional judges, too many contestants begged for them to change their minds. Begged, especially in a whiny voice....
Please
,
please
,
please
,
puleezzzeee
...until *I* cringed in horror.
And had to laugh out loud when Simon or Kara asked a contestant who told you you could sing? Only to have the singer reply with 'My mom. My friends.' I wish I'd kept count of the times some one said this.
Note to creative souls....your Mama loves you. She believes everything you do is golden. And rightly so. You are her creation, after all. However, she may be just a tad prejudiced.
Just a tad.
The same with your friends. Here, though, I'll allow that most people don't know how to offer negative feedback. They don't want to hurt your feelings or damage your friendship. Telling a friend that you think they don't have a good voice or an artistic eye or a great garden plan is hard. For one thing, it is your opinion. It is likely that you are just as wrong as can be because you aren't an expert in the field. Secondly, no one wants the hurt feelings thing to follow them. Creative Souls are creative, sensitive, and artistic. In other words, we bleed with ease.
Taking the steps toward making your artistic life into a professional one demands you learn to listen to hard stuff.
One of my favorite rules in my writer's group is our 'no defending' rule. After you've read your piece for the evening, you must zip your lips and listen to the verbal feedback. No defending means not 'explaining' to the doofuses who didn't 'get' it. If you have to explain, your writing wasn't clear. After all, once your book is on the shelves of Barnes and Noble, there is no author standing nearby to explain passages. No sputtering...'but, but, but.....' No pleading 'please, please, please....' And certainly no bad mouthing the person offering critique.
There's been times when I vehemently disagreed with what someone said about my writing. The no defending rule kept my mouth shut tight. Remarkably, after a few day's perspective, I was able to see that just maybe that person had a point. If more than one person said the same thing, then I realized my writing had a problem I needed to fix. I won't even tell you about the blood bath that is professional photography competitions. Ouch.
Finding people who will be honest with you is an effort worth taking. Take a look around you. Who will offer you unvarnished truth? Value these folks. Especially if they are in your field. They are worth gold to you in your pursuit of excellence.
And don't you dare whine when something negative comes your way. Professionals don't whine. They go home and work even harder.
Now, go out and create something incredible so we can all tell you how genuinely wonderful you are.