I'm a total fan girl about two things. The TV show Stargate SG1 and Texas Rangers baseball.
Stargate feeds the adventurous sci-fi gene in my soul. Loyalty, honor, and teamwork mixed with aliens, action, and humor with a teeny touch of romance are a killer combo. The first eight seasons of Stargate were a wonderful weekly escape from my life on this planet. I often wished Jack, Sam, Daniel, and Teal'c were real people so I could meet them. Unfortunately for all of us, they are fictional only. Since Stargate is no longer in production, I'm able to focus all of my attention on my Texas Rangers who are real, live, and currently working in Arizona.
It came to our attention that I haven't been anywhere that could be called a vacation in the past couple of years. Reasons aplenty for that, but we decided it had gone on long enough. The Pilot Guy and I flew out to Arizona last week for a spring training/sunshine break. Bouganvillas, lantana, and orange trees were in full bloom with a warm, sunny sky overhead. The rental agency gave us a sporty (for this mini-van mama) bright red Chevy Cobalt with a sun roof to zip around in. We drove around the city of Surprise with the top open and the windows down.
The Texas Rangers' organization is one of the few who open portions of their training facilities up for fans to mix and mingle with the players. Every morning from 10am until about noon, workouts, batting practice, pitching, and fielding happen just feet away from fans. There are players you read about in the news and some you've never heard of.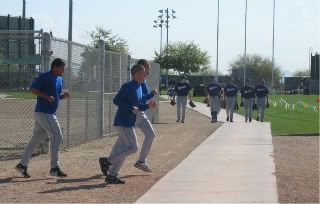 Herds of minor leaguers and future prospects stride up the walks, their cleats clicking on concrete. Mock games and batting challenges flow. Push ups for some infraction are done with laughter and good natured ribbing. When moving from one field to another, most of the guys don't mind taking a moment to sign a baseball or have their photos snapped with you. For a fan, this is a wonderful experience!
Michael Young and Andruw Jones
Ron Washington giving Jarrod Saltalamacchia tips on bunting.
I was pretty intimidated the first day. I couldn't ask anyone for an autograph. It was just a bit overwhelming to be there. Then The Pilot Guy and I met The Cookie Lady, a well known Texas Ranger fan, her husband, and other friends. They made us feel like we'd known them forever. The Cookie Lady is kind of a mom figure to many of these guys...they all stop to give her a hug and take a moment to visit. These guys are, for the most part, the same age as my own sons. Some of them are little bit older than that, but still young with young families they miss.
By the next day, I was able to get over myself and ask for a couple of autographs and photos. Very fun. If I ever get to go back, I'm taking a bucketful of baseballs to be signed. And, no, I'll never sell them on Ebay. My kids will have to fight over them when I'm gone.
Me and Marlon Byrd...I loved how his face lit up when I asked if I could have a photo with him.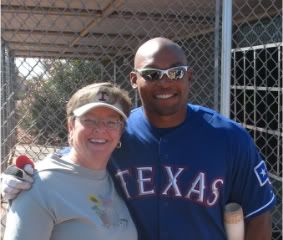 With Jarrod Saltalamacchia....see that ball in his hand. It has his siggy on it and it's mine.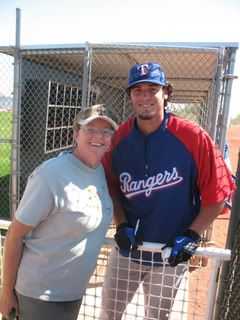 With Brandon McCarthy...he is one long, tall fella. Hopefully with a strong healthy arm this year.
With Kevin Millwood...rumored to be the Opening Day starting pitcher. Nice guy.
Do you know what mega-bucks star athletes do after a batting practice session? They clean up after themselves, picking up all the balls and returning them to the buckets whether in the cages or in the outfield. Did my mama's heart proud. We loved watching them all clown around during batting practice and while shagging flies in the outfield.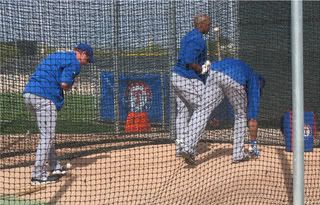 Unknown coach and Josh Hamilton
There are games every day in fine spring training facilities all over the metro Phoenix area. We saw the Rangers play the Seattle Mariners including Ken Griffey, Jr. and against the L.A. Dodgers complete with Manny Ramirez.
To say I didn't want to come home to the turmoil going on in our little church and in The Baseball Guy's team, challenges of dealing with a newly wrecked car, and gray skies is an understatement. I wanted to play in fantasy land a little bit longer.