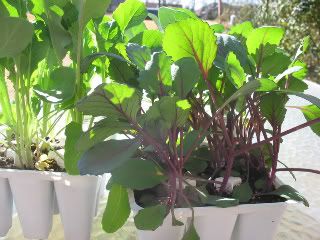 A string of pretty days has made joyful work of winter gardening.
The guys at the garden center seemed slightly unnerved by my showing up only two hours after they unpacked the veggie transplants. Don't know about them, but my gardening alarm clock has been ringing for days.
We put onions sets into cool soil first. Purpley reds and sweet yellows. Thin little slips that will root, grow, and swell into bulbs of flavor and scent. Two days ago, I put in broccoli, cauliflower, and red cabbage transplants. Bunny watch has now begun, too. They won't nibble on onions, but they do seem to enjoy broccoli. If all goes well, a crunchy lunch salad will be served to you and I sometime in May.
What a wonderful feeling to get my hands in the dirt again. My only concern is that pretty warm weather in January often leads to hot, hot, dry weather during the summer. I'm already planning and thinking about our watering systems this spring. In addition, the Pilot Guy should be very pleased with the restraint I've shown thus far this year. Why, just the other day, in shirt sleeve warm sunshine, I did
not
start digging on a new and expanded pond. Admirable, right?
Here's to a happy, productive, and beautiful gardening season.