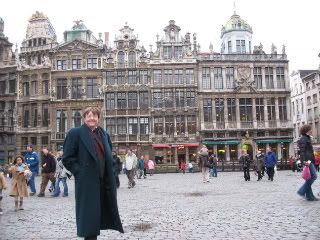 Me in front of the Guild houses in the
Grand Place
, Brussels.
On this day, ten years ago, we landed in Brussels to begin our European adventure. The Pilot Guy's company had offices in Belgium and we finally took the opportunity to live overseas.
All of us crowded close to our airline windows as the jet flew low and slow over Brussels in it's final approach to the runway.
Incredibly green.
Waterways.
Puffy clouds.
It looked like an enchanted kingdom.
Excitement fought with jet lag as we found our little apartment on the fifth floor in
Evere
. Since there was not a scrap of toilet paper or food in the place, we made our first jaunt to the grocery store just a bit later.
If you've never lived in another country, you can't really imagine how overwhelming it can be to not be able to read the signs or understand the language flowing around you. Your brain peels out like tires on wet pavement trying to figure it all out. At least the French words looked like they ought to be words...the Flemish words simply looked like a scrambled word puzzle and made my head hurt. The cars were small and the architecture strange. I was terribly afraid of offending someone.
The grocery store was an experience...an overwhelming one. I think I was close to panicking that we wouldn't be able to feed the boys (age 8 and 14) that night. (Remember I'd just spent two weeks packing up our house, given away the dog and the cat, leased my horse, and made a trans-Atlantic flight...I was grocery shopping on sheer nerves.) Just as I think I was about to hit the panic button, I looked up and saw a sign.
Poisson
Fish. I knew that French word meant fish. We'd studied up on some French before leaving and one of the words I'd learned was
poisson

.
Suddenly, I knew we could do this. We could figure it out. I still have the receipt from that shopping expedition. Carrots, toilet paper, Frosted Flakes cereal, milk. The carrots would spoil our taste buds forever they were so good. The milk we didn't decode well and ended up with buttermilk. Our youngest was not amused the next morning when he poured it over his cereal, but we eventually figured it out. Within a couple of days, we learned we lived within a short walk of not one, but two, French bakeries. There is nothing that smells as good as a French bakery in the morning. Nothing.
My sons were super troopers during our adventure. They ate strange looking things in strange looking places. We never got used to the softly cooked egg in the middle of an authentic French pizza...but we learned to love of a lot of other foods and customs. They made friends with children at church who spoke Flemish.
We are so blessed to have had that time in Europe. During our stay, we began homeschooling. Certainly a life changing decision. We took the opportunity to travel extensively during The Pilot Guy's time off. Because of that adventure, my sons have toured Viking museums, boated down a Norwegian fjord, skied in the Alps and swum in the Mediterranean. We've walked the streets of Pompeii and climbed Hadrian's wall. We had crepes in Paris, gelatto in Italy, and warm waffles in Belgium. We made a profound 'pilgrimage' to the Isle of
Barra
, Scotland, where the family clan was founded a thousand years before. We toured museums, historical sites, art galleries, street markets, and grocery stores where ever we could. I fell hard in love with Italian pottery, rolling Italian countrysides, and Paris. We learned to count and be polite in a handful of languages.
The Pilot Guy flew to Finland, Greece, Poland, and Ireland, and everywhere inbetween. He eventually got to fly to Iceland, too. How many people do you know who've been to Iceland, much less piloted a plane there?
It was a blast. And I'm so very thankful to God for opening the doors for our family.
The Baseball Kid leaves in two weeks for a summer missionary internship in Ghent, Belgium. If we hadn't lived there, fallen so in love with the country and it's people, we would have never met those who are dear to us there. And he would not have had this opportunity.
It's interesting the directions our lives take.
Ten years. It seems like only a little while ago......
And I'd go again in a heartbeat.