Today was a good day in the garden. Tomatoes, peppers, basil, and okra. The heat is on here in Texas so the tomatoes will hunker down for a few weeks. Everything else will kick into high gear. I love plants like okra and basil that laugh at our heat....as long as we keep them watered that is.
We picked more blackberries.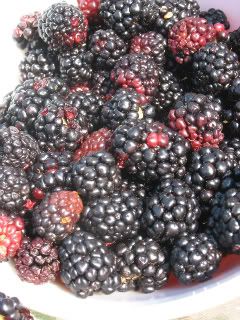 I had a batch we picked a few days ago in the fridge. Together with today's harvest, I had enough to make 8 pints of blackberry preserves. They'll be yummy on biscuits or ice cream. It's been a few years since I made any kind of fruit preserve or jam. It was fun and fairly easy to do.
For the next little while, gardening means watering and keeping ahead of the weeds. Why is it that weeds don't seem to suffer from heat stress like my favored plants do?