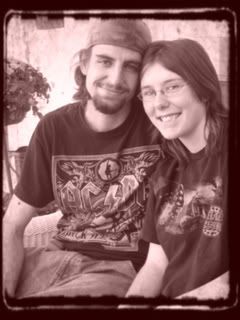 Kevin and Lisa
Since it's just become offcial that I'll be a mom-in-law in a few short months (more about that later), let's stroll down memory lane a bit considering our own engagements. Write about the day you got engaged. Or write about a romantic evening, trip, or event. A special date, perhaps....or a day that turned out to be very romantic in memory, but you didn't think so at the time.
Got any photos to put with your memoir story? If you are an artist, take a moment to sketch an image. What would a quilt block of your memory look like?
I hope you have a pleasant trip down Remember Lane.
An insistent and nasty infection kept me sluggish all last week, then a trip to an out of town wedding, so I didn't get as much done on my travel memoir or the blog as I planned. Hopefully, I'll post my travel piece by tonight.
Until then, muse upon your romantic memories. Happy writing!