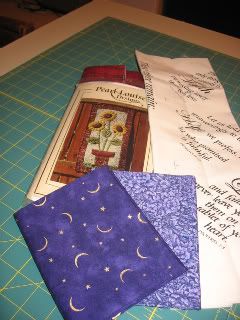 ....for cleaning out the nooks, crannies, and odd spaces in your home.
You find treasure!
We bought this quilt block kit and assorted fabrics last December. Yep, you read that right. December, 2008. The package got put in an odd place and then through out the year, other flotsam and debris ended up on top of it. Shortly before Christmas, I got a burr under my saddle about tidying up the master bedroom. And there it was...just waiting for me.
Now, at least, I know what my next quilting project will be. These little sunflowers will look great in either my kitchen or my studio.