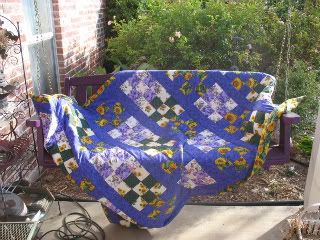 I finished it this morning!
This quilt was my 're-learn to quilt' project. It is a generous lap-sized quilt in rich purple solids, dark greens, and bright sunflower prints. The colors are my favorites and designed to be a cheerful spot of intensity during the cold, gray days of winter.
Some of the corners won't hold up to close
scrutiny
and the binding has more issues than a magazine subscription, but it's all there. Put together and and use-able.
My theme in 2008 has been Do It! For the later part of the year, I've enhanced the thought with Finish It! By completing the NaNoWriMo challenge, a significant church project, and this little quilt, I feel like I'm on a roll.
This is fun! Now what?