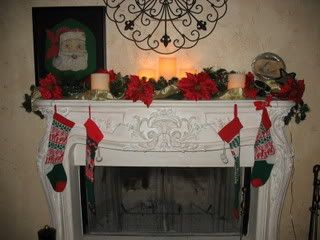 Need some ideas on how to stuff the stockings of your creative friends? Or, maybe, you need to give a list to someone in your life so they can stuff your stockings in a grand fashion?
1.
Small supplies.
For
Quilters
, a spiffy new rotary cutter with blades, a handmade pincushion, or a new ruler. Fat quarters and charm packs are always fun.
Gardeners
love cool hand tools like trowels and pruners, knee pads, hand lotion, wind chimes, bird houses, seeds, small transplants from your garden.
Artists
(gotta think of another name for these...we are all artists) brushes, portable cases, hand made papers, sketch books, inspiration books.
Writers
--interesting pens, printer cartridges, paper, clever notebooks, Starbucks cards, small pillow for their backs while they write.
2.
Magazine
subscriptions
to a creative magazine.
3.
Artist Date supplies
....entry to an art museum, promise of lunch out with like minded souls.
4.
Creative books
5.
Junque
...cute themed key chains, mouse pads, Christmas ornaments, socks, tee-shirts.
What are some of your favorite
creative boosting gifts
you've gotten or given over the years?