It's cold outside, so we've been cooking up a storm inside. Christmas treats for the most part. Recipes filled with yumminess and generous helpings of love and good wishes. I usually make biscotti with only almonds in it, but for Christmas it is fun to add color and additional flavor.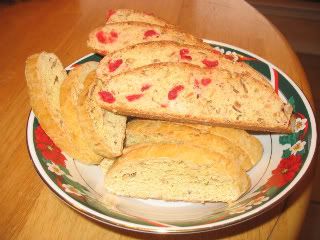 Cherry Biscotti
You can use either dried cherries or maraschino cherries. If using dried, soak in hot water for 10-15 minutes to plump. If using maraschinos, quarter and lay out on paper towels to drain for 10 minutes or so.
2 cups all purpose flour
1/4 teaspoon baking powder
1/4 teaspoon baking soda
1/4 teaspoon salt
3 large eggs, beaten lightly
2/3 cup sugar
1 teaspoon vanilla extract
3/4 teaspoon almond extract
Zest from one lemon. (An orange can be used if desired)
1 cup sliced almonds, toasted and cooled
1 cup cherries
1 egg for an egg wash.
Toast the almonds on a cookie sheet in a 350 degree oven for ten minutes. Stir half way through. Allow to cool.
Line a baking sheet with parchment paper.
Sift together 2 cups of flour, baking powder, baking soda, and salt in a bowl.
In a small bowl, combine eggs, sugar, vanilla, and almond extracts, plus the lemon zest.
Make a well in the flour mixture. Add eggs and sugar mix to the well. Stir the flour into the well slowly mixing. If necessary, add additional flour to make a workable dough.
Add almonds and cherries. Fold into dough until mixed.
Divide dough into two equal pieces. Flour your hands to keep dough from sticking to you. Gently form the dough into logs--about two inches x eight or ten inches. Carefully transfer each cylinder to the parchment lined baking sheet. Evenly brush the dough with egg wash.
Bake until dough is slightly risen and light golden. About 25-30 minutes. (If you are using maraschino cherries and the dough is a bit wetter, allow for the longer baking time.)
Allow to cool on a cooling rack for ten minutes.
On a cutting board, slice each cylinder at a sharp diagonal angle. Make the slices 1/2 inch thick. Stand the biscotti upright on the baking sheet with some space between them.
Return to oven and bake until biscotti are a deep golden brown, about 15 minutes.
These are dry crispy cookies perfect for dipping in coffee or a rich wine. Once cooled, the biscotti can be stored in an airtight container for up to one month.
To make even more special, melt some good chocolate and dip one end of the biscotti into chocolate.
My original recipe came from Patricia Well's 'Trattoria' cookbook. I have tweaked it a bit in the years I've been making it. Usually when we make this recipe, we triple it. It's that good.