This was a fun and productive week. I will admit I'm ready for ds's baseball season to slow down so I have a few more hours a day not at the ball park. I love baseball, but he plays both JV and Varsity, which means a game almost every day.
I wrote 800 plus words for a marriage article. Very rough, but the words are on the hard drive.
I wrote a 'flash' fiction. Also very rough, but it was my first attempt at telling a story in such a short form.
Indulged in a bit of fun photography.
Then....
I participated in the 'Spring Training Swap' hosted by Paula at
Coffee Time Quilt Studio
. While I had a blast gathering things to send to my swap partner, it was such fun to receive a box from my buddy. Cloe had packaged each item in red, white, or blue tissue ~ Texas Ranger's colors. Then she labeled each one with the name of a Texas Ranger from the opening day starting line up. Fun!
But even more fun was opening the packages.....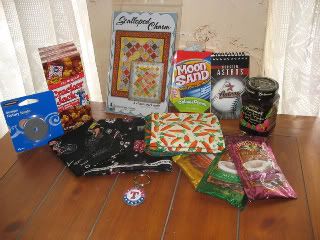 Indulgent treats, new fabrics, and even a new quilt design to play with. Lots of fun!
In the spirit of that fun, I'm doing a small give-away. If you've read this far, post a comment to be entered in the drawing. I'll draw the winner Tuesday morning.
Thanks for reading Creative Soul.