I love the raw materials of creation.
Uncut lumber, flats of flowers, bolts of cloth, crafty supplies, pencils ~ sharp and ready for the sketchbook, fresh ingredients for a tasty meal, stacks and stacks of blank paper waiting for my stories and thoughts.
Raw material screams potential. Lumber isn't just wood. It becomes a new home where laughter and memories are made. Or a piece of furniture to be handed down to the next generation.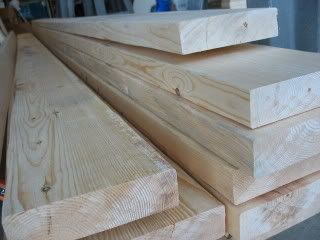 Flats of flowers are the paints used to add color and vitality to my gardens.
I practically hyperventilate in a fabric store. I love the colors and textures. Of course, I can be the very same way in a garden nursery or craft shop. Just ask the brave souls who join me in a shopping expedition.
Still, my favorite 'raw' materials place is the bookstore. All those IDEAS just waiting for me to discover them. Delicious.
There are times when the material itself inspires creativity. It is said that
Michelangelo
looked at a block of marble and saw the statue within. Then he simply (ha!) worked to free the statue from the stone.
What are the raw materials of your artistic life? Do those raw materials 'speak' to you?