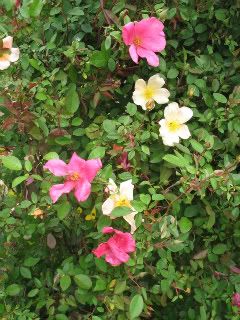 Mutablis, the butterfly rose
From Thomas Moore's 'A Life At Work'
"C. G. Jung once wrote that creativity is an instinct, not an optional gift granted to a lucky few. If you don't find a way to be creative in life, that instinct goes repressed and frustrated. You feel its loss as a deflation, the spirit leaking out of your sense of self. You feel empty, disengaged, and unfulfilled."
Wow, that really rang a bell with me. I know I get out of sorts when I'm not actively involved in something creative and fulfilling. Lately, I'm stretched thin with all sorts of responsibilities. People need my talent or, at least, my hands to fill a necessary task. I love it until the moment when I don't. Then it is time to hibernate and recharge.
I read somewhere that an extrovert recharges by being with other people. An introvert needs to pull away from others. I love people. Really I do. Most days. But only if I get enough quiet time, too.
Balance, elusive balance is the key.
Are you an introvert or an extrovert?