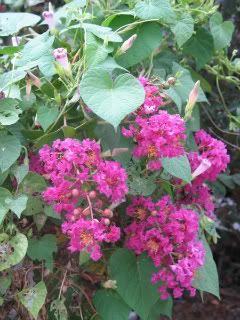 A while ago, I asked who had killed your creativity. Now, it's time for the opposite. Who has nurtured and nourished your spirit? Whose words or actions keep you striving? Who taught you something important about your craft or yourself?
For me, the list is long.
My husband, the Pilot Guy, has to top it. He is always encouraging me to do what makes me happy. Whether I'm earlobe deep in photography, writing, gardening, quilting or whatever, the man has hauled equipment, endured fits of creative despair, and patiently picked up pieces when I think I've broken my heart beyond repair. He believes in me. A precious gift, belief.
Mama Marge, my journalism teacher from long ago. She was the one who encouraged the teenaged me in photography. Her husband, Bill, actually taught me how to load film in my Yashica-mat. Over the door to the journalism department in my high school was a hand lettered sign that said, 'Beware all who enter here. Your life will be changed.' True, very true. Mine certainly was.
Chuck, photographer and business man extraordinaire, my mentor and often a tormentor.(Grin) Best of all, friend. He shoots straight with me. I don't like hearing what he has to say sometimes, but after I quit reacting I realize he is (usually) right. He and his wife, Cheri, inspire me as few people on the planet do. They ask great questions and make me think about my creative life in new ways. A great big thank you to the Art Leather company for sending Chuck to Amarillo to speak in 1982. (Yikes!) What if I'd missed that seminar? Imagine what I would have missed. Quite simply, Chuck changed my life. His friendship, and Cheri's, is one of the most central to my life. Precious people.
My late sis-in-law, Hermion, taught me to watch and learn from nature. Big observations and tiny moments of noticing. She loved color and texture and whimsy. She's been gone for over a year and a half yet I'm still storing up treasures to share with her.
Bonnie, my writing friend. She is so persistent
--(please finish something, Deb
)--and encouraging. I love her questions and her ability to see things from a different perspective.
Who's been important in your creative life? Have you told them lately how much you appreciate them?