Thank you to all who participated in the Journal page contest. Thanks to all who thought about it and either chickened out or timed out. Next time, promise?
Paula aka Sweet P from
Coffee Time Quilt Studio
sent a wonderful color page from one of her journals. Plus, she sent in a page from her quilt planning journal. I think the two pages illustrate the two wonderful parts of her creative brain. The color page enchants me!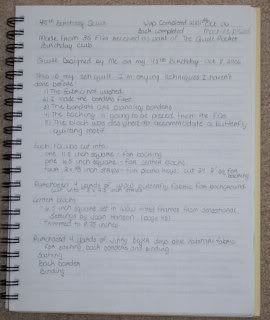 Paula says....
Here are two photos from two of my journals. The first one is from a stitched book I made in a book making class four years ago. The book is made from Japanese paper. I did this one by letting watercolor paint drip from the brush onto the paper. I haven't looked at it in a long time. I had forgotten how pretty this page is. I may have to frame it.
The other photo is a page from my quilt planning journal. You can see how I make notes when I first start planning a project. If there is math involved you would be able to see my calculations done by pencil.
This is a great contest. I can't wait to see what others send you. You've inspired me to start picking up my Prismacolor pencils and drawing journal and start doodling.
Donna NM sent in a page of poetry and drawings from one of her journals. I love words and images combined on a page, don't you?
Donna says....
Why do I like this page in my journal?
Well, I liked this poem enough to write it down....because I loved the simplicity of it; in that it reminds me to treasure the most simple, yet most beautiful and cherished, of what the Lord has blessed us with.......nature.

Truly, some of the most precious times with Him, the times when I have felt most grateful, most awe inspired, and most blessed, have been when I was outside in nature.
Not necessarily someplace magnificent....but even simply in my own backyard, tending my own little garden, early in the morning, when no one else is around.
Those moments are the moments when I "feel" Him, deeply & gratefully.
Moments only my heart can understand, moments when there are no words that I am skilled enough to use that would be able to accurately express the majesty of His creation and/or the peace and contentment it can offer me when I take the time to simply "see" it, "appreciate" it, and be "aware" of it.

I also like this page in my journal because of my little drawings. I have always loved art/drawing and have always longed to draw with mastery and skill. Unfortunately I have never had any "real" skill, talent or training in that area. But that doesn't stop me from making feeble attempts and amusing myself with doodling here and there. ( I am grateful and bl essed now to see my children so inspired to draw. So, I encourage it muchly, and ooooo, and awe and melt over their precious artwork.) I admire, appreciate and cherish artwork, and can smile and feel satisfied when making my own little attempts at it.

And, lastly, I like this page in my journal because of the simple quote at the bottom, that says, "I am a Sparrow, a stay at home bird". I have felt that way most of my life.
While others have been out galivanting, exploring, and/or adventuring, I have usually been a stay at home person. I do love to travel, but have not had many opportunities to do so. And, it seems I have always had a lingering sense of lonliness in my soul….which I also felt was expressed in that little quote. Thanks, Deb!
Have some fun in your journal today. Even a doodled on grocery list can be a creative moment and in a few years, a piece of everyday history.
Thanks for playing the game, everyone! Paula and Donna will be getting a prize package including a new journal, a set of my photo notecards, and a few extra goodies I've gathered.