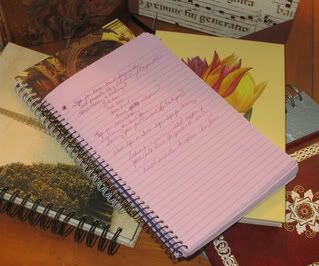 My notebook is full.
Imagine my surprise when I turned the page to take notes yesterday and found there were no more pages in the book. I completely lost the train of thought from my phone call for a moment.
How can this notebook be full already?
To be creative, one must have a system in place for capturing great ideas, silly suggestions, and random weirdness. For me, a notebook fills the bill nicely. Plus, it is nice to have a place to doodle during a tedious meeting. The notebook I just finished is filled with odd bits of poetry, incoherent ramblings while listening to a read at my writer's group, and plans, plans, plans. I think well on paper. Any project of mine gets serious when I start jotting down notes. The windy flurry of a storm of the brain captured in ink on paper.
My friend Chuck has a voice recorder he carries in his pocket. It means he hardly has to break the stride of a conversation to whip out the small instrument and speak a quick note into it. It is a good idea, that one. And one I may consider in the near future. Excellent for reminders and business meetings, quick ideas. For now, I love the tactile pleasure of pencil or ink on paper.
My notebook is full, but I have a new one with fresh, clean, purple pages waiting on the bookshelf. It is large enough to write on comfortably, but small enough to tuck into my purse.
I wonder what fun I'll have within the leaves of this notebook.
Where do you record your brainstorms, creative thoughts, or mundane ramblings?