Is it a bad sign when even your flowers won't look at you?
Evidently, the sunflowers we grow love watching the sun come up. These are in the new bed we built on Memorial day weekend on the east side of the back yard . Which means they are facing the eastern horizon instead of the back porch. We have a line of sunflowers on the west side of our back yard along a fence. They always look into the yard. Never thought about these guys facing away from the back porch. Aren't flowers always supposed to face the way you want them too?
Ah, but when you walk around the other side of the bed, the sunflower faces are lovely. The bees and butterflies are enjoying them. The neighbors are getting a pretty show, too.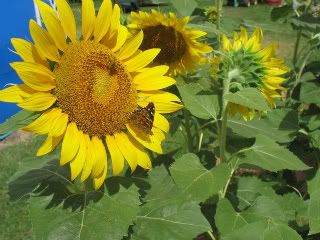 Sunflowers make me smile.