Busy and reasonably productive week here creatively speaking.
Last Saturday was lovely, sunshine and warm temps. We fed our garden fever (you do feed a fever, right?) by going to a garden trade show, a plant nursery, and the Botanic Gardens in Ft. Worth. The Gardens stroll turned into a fun photo safari with The Pilot Guy and I snatching the camera out of each other's hands.
I stripped a porch swing to prep for a new paint job. Power sanders are fun.
The big creative fun was photographing the snow on Thursday. Just under five lovely inches of pure white fun.
Here are a few more photos from the day...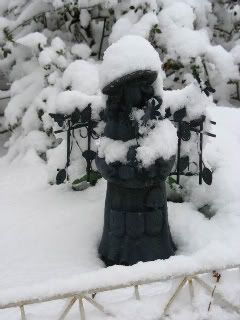 View from the front door...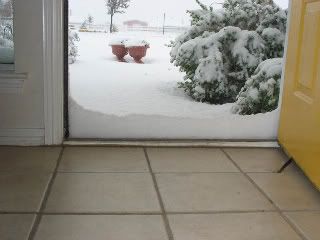 Bunny tracks on the front porch
We were supposed to be at a baseball tournament yesterday. I guess this guy didn't get the word.
I finished piecing my lap quilt. I'll post photos tomorrow or next week.
What creative fun did you have this week? Tell about it in the comments. Feel free to link to a photo in your own blog.