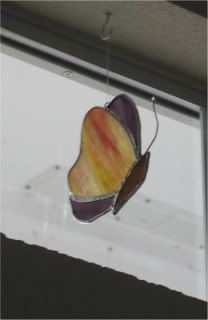 I haven't hosted a Ta-Da Friday in a long while, but it's been a productive week or two around here.
First...
Several thousand words on the current novel. Yay! I love it when the words flow.
Then....
Stained Glass days with The Pilot Guy...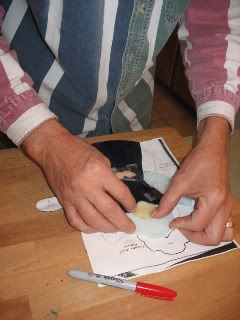 The Pilot Guy working on his angel
From this....
Raw glass on the light box
To this....
a sun-washed work area
to this...
My Work in Progress....I made some choices in cutting that are making it difficult to fit the pieces easily. It's taking a lot longer to grind and fit than I was prepared for. I guess it's hard to see the lightly patterned glass between the plant stems. Still more cutting and fitting to do...It's going to hang in the big west window over the bathtub when I'm done. The border will be a smoky purple.
I've worked on a few more pieces. I'll show photos of them next week.
What have you been up to? Anyone publish anything recently? Knit, paint, scrap, or create anything? Post photos on your blog and link the addy in your comments on this post so we can all enjoy.