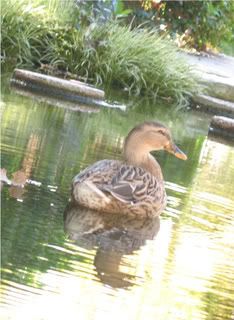 Do you write an annual Christmas letter to friends and distant family? We do. Actually, we alternate years. Some years we send a card. Some years a card and photo. Other years, I'll do a newsy letter and photos.
I love receiving letters from friends during Christmas. It is fun to catch up with all the big and little happenings of their lives. Christmas is the only time we touch base with some old friends. When I get a card, I know they are still alive!
If you haven't written your Christmas letter, get started now. Here's some tips to get you started...
1. Change POV. To make it more fun for all you creative types out there...write the letter from an unusual point of view. I did one a few years ago from our dog's POV. It was cute, even if I do say so myself. What would your kitchen table have to say about your families comings and goings this year? The birds who lived in the nest on the front porch--what would they write about you? What would your cat or car have to say? Hey, you could even write one from the youngest kiddoe's point of view.
2. Write a Christmas poem, rhyming or free verse.
3. Include photos. Digital photography and desktop publishing make this pretty easy to do. Don't worry about printing in color...black and white photos are very trendy.
4. Keep the length short.
5. Use lots of active verbs.
6. Write about each member of your family.
7. Treat your vacations, job promotions, and new car purchases with a light touch. Not everyone had a great year financially. Focus on the joy you have in your family and friends, instead of material things.
8. Print on pretty Christmas paper or colored paper. Take care not to choose to dark a color or it will be hard to read.
9. Fold 'em, address 'em, and get them mailed.
10. Imagine the smile your letter will bring to someone you care about.
It's your letter, have some creative FUN with it!