In my last post, I told you to add a jolt of color to your gray winter days. Here's mine:
I found these at Tuesday Morning. Love them. Bright, cheerful colors that remind me of tulips for some reason. Even the insides are glazed a pretty color. Seeing them in the cabinet makes me happy.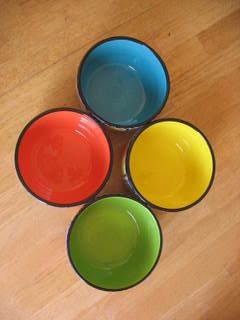 More tips on beating the winter blahs coming in my next posts. In the mean time, the daffodils are doing their darnedest to usher in spring. Like sunbeams on the ground.