Frosty Frog Fowl Feeder
I hope you've had a chance to revel in some color in the past few days. It helps to notice something besides the cold and the dreary, doesn't it? I've enjoyed all your terrific comments. It seems I'm not the only one who gets the winter blahs.
Here are a few more tips for surviving the winter blahs. None of them will turn an avowed heat lovin' summer person into a winter lover, but hey, if it helps a person get through........
Light. This probably should have gone first. If you are affected by gray skies, turn on the lamps inside. We've actually gone through the house and replaced 60 watt bulbs with 100 watt bulbs just for the light boost during long winters. Open the curtains and let in the light. In Belgium, where the skies are often cloudy all day, the homes and apartments are designed with huge windows to gather every bit of sky light. It helps. There are professionally made lights just for people with SAD. I've never used one, but instead taken the idea and modified it for my own benefit. Look into getting one if you need more of a boost than ordinary lights can give.
I go as far as to light the darkness outside as well. After the Christmas decor is taken down and packed away, we put a couple of strands of white lights in the shrubs near the front porch. It's not Christmas decor, its winter wonderland decor. It stays up until near the end of February. This year, my son's girlfriend gave me a strand of flower garland patio lights for Christmas. We've wound those into the Japanese maple potted near the front door for a warm, quiet light. Every thing is on timers, so the lights come on at dusk and off sometime during the wee hours. This year, we also made the shift to LED lights for energy savings. Can I just say LED white lights are not white, but blue...and rather ghastly? I'm not sure I like them.
Get out in the sun when ever you can. One January in Belgium there were exactly five, count 'em, five days with an hour or two of sun. The rest were typical gray, cloudy days. Short, gray, and cloudy. For years, I've told my family and friends I'm solar powered, so you can believe that I was out in that sun every single time. Same applies here...Bundle up and take a walk. Drag a patio chair to a protected location and bask. Pretend you are a cat and stretch out near a sunny window.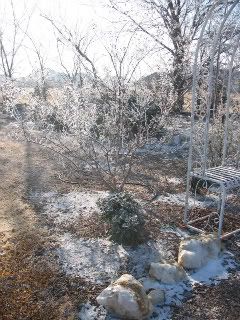 Embrace winter. Yes, it's cold, gray, snowy, icy, and windy. But some days it's crisp with sunlight glistening through ice crystals or glinting off snow. Some mornings are ethereal with foggy frost. Enjoy the stark beauty that is winter. Learn to dress warmly and well so winter doesn't lock you inside. My friend in upper NY state, Rose, purchased snowshoes for her family. Together they can enjoy a nearby park with a path that leads to a lake. It sounds enchanting to me. I like to take a camera or sketchbook outside to capture some of the fleeting beauty of this season. The beauty is there if we look for it.
Make a list of the things you like best about winter. Don't say there isn't something you like....everyone likes hot chocolate don't they? Or hot coffee? Okay, then, hot chocolate/coffee/tea goes on the list. My list includes snuggling under a lap quilt with a fat book someone else has slaved over. A fire in the fireplace. Hot tapioca pudding. Icicles. Snowmen. Cozy sweatshirts. Flannel pants. Soups and stews. Cardinals at the bird feeder. Seeing bird's nests from last summer in the leafless trees. Make a list of what you do enjoy and post it on the fridge or in your journal. Can you get one hundred things on your list? Make sure you take time to savor those instead of hurrying past them.
Go make your list and we will compare in a day or two. I have one more set of tips for winter survival to post in a few more days. Until then, stay warm, turn up the lights, and focus on the pleasures of the season.