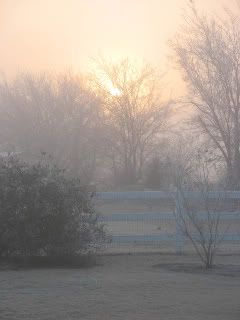 The mid-winter blahs have me in their cold, gray grip. It seems a bit pathetic since we haven't had a long or significantly cold winter. Lethargy, a surfeit of ideas, and a craving for cheap carbohydrates are some of the symptoms. Every problem presses down, every goal seems too hard, and the siren call of mindless TV beckons endlessly. Plain and simple seasonal affective disorder or SAD. The acronym sums it up nicely.
I wonder if creative souls are more sensitive to seasonal depression than other folks. I've fought with this all my life. Over the years, I've learned to cope with the winter blahs without resorting to mayhem or drugs....too often anyway. Over the next few days I'll share things that keep me afloat during this season.
1. Color. When the landscape is dead grass brown and the skies are gray, I crave
color
.
Wear something bright...a shirt, a favored piece of jewelry, or a happy scarf. My purple and sunflower lap quilt was designed with damp, gray days in mind. A perfect jolt of warmth and color.
Put up some bold art.
Print out your favorite flower or beach photos and hang them where you can see them every day.
Paint your fingernails.
Paint the walls.
Buy the big box of crayons and use every one.
Eat colorful vegetables and fruits and pretend you are eating sunshine.
Visit an art museum or a favorite shop and notice color.
Winter is the only time I buy flower bouquets since I grow my own the rest of the year. A bunch of purple tulips, the happy faces of yellow daisies, or sweetly scented hyanciths add so much life to a room. A five or ten dollar grocery store bouquet can last a week or more and give me much pleasure. Living green plants add a touch of life to a room, plus they actively filter the air of many toxins.
Erase the gray....How many ways can you add
color
to your life today?
Winter is a season of our lives. It can be a time of joy and creativity if we know how to approach it wisely. In the next few days, I'll post more tips on coping with this season.