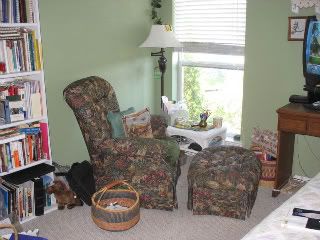 Where do you meet your muse?
Do you have a studio or a designated area for your creative endeavors or do you work where ever?
Sweet P over at
Coffee Time Quilt Studio
is inspiring me with a recent post. Hop over and take a look at her pretty quilt studio. It will make you want to tidy and make fresh at your place.
The chair pictured above is my writing chair. A view out the window of flowers and birds is essential to my writing. I do a LOT of staring out that window and thinking. The joy of writing is that sitting and staring are valuable creative activities.
My quilting area is not fit for photos yet. I'll work on it and show you some time soon. As for my gardening...well, look out the window.
I'd love to see where you work and why it is special to you. Can you take me on a tour?