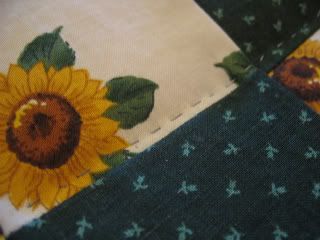 Ike brushed by us last Saturday stirring the trees with his rainy breath. While he threw his temper tantrum outside, I
cozied
up in my yellow quilting area and played.
I started this lap quilt last spring specifically to refresh my skills. Previously, I had pieced the top, then sandwiched it with batting and a backing which required a lot of brain power. Basting came next.
Finally, it came time for the actual quilting. At first, the plan had been to machine quilt. Never done that before and couldn't quite figure out how to adjust my machine to make it work. Because I was cocooning in my yellow room with rain on the roof, I didn't want to take time to call my
quiltin
' sis-in-law for direction. Instead, up came the small quilt frame I have and out came the thimble and needle for hand quilting.
What a great decision.
A marathon of great chick flicks accompanied me on TV...can you go wrong with 'Sleepless in Seattle', 'Working Girl', or 'What a Woman Wants'?
I have at least a third of the quilt done. My stitches are not as small as they could be, but I worked on uniformity. This quilt is just for me. Practice, yes, but also to snuggle under on the couch during the gray days of winter. The fabric photographs blue, but it is really a deep, rich purple.
The afternoon proved the benefits of hand work as therapy. I felt
sooooooo
great.
Now, someone explain to me about the cat-fabric connection. All I have to do is lay out whatever I'm working on and little Rascal is there. This photo was taken approximately 30 seconds after the fabric went on the frame.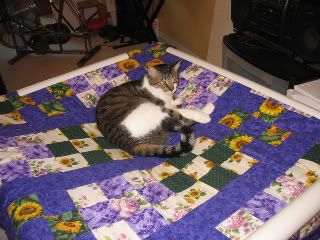 My memory is full of a long line of sewing
enthusiasts
cats. Desi, the cat of my teen years loved paper patterns.
Rain, cats, and quilting. It was a good day.