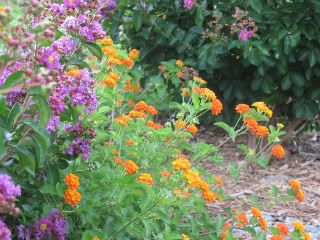 There's something about fall that makes me want to clean, tidy, and decorate. I love the colors of the season for one thing. All those warm terra cottas, soft khakis, and rich greens are my colors. Add a dash of purple and I'm a happy gal. During this season, I'm also getting ready to hibernate for the winter. Nothing is more pleasant than a comfy, cozy cave for the winter.
With nine weeks until Thanksgiving, I've devised a declutter, clean sweep, make ready plan for me to follow. The key to this is dividing the house into sections and working on one section a week. Hopefully, I'll have a delightfully pretty house for the holidays. Won't that be fun?
Join me if you want. I'd love the company and encouragement. If you have tips or advice, I'm all ears. The hardest part for me will be eluding the call of the garden. The weather is so fine right now.
This week, I'm focusing on the Welcome Home spaces. The areas where we enter or leave our house. The front porch and entry way. The back door and porch. The garage entrance where we go in and out 50% of the time. The goal is to declutter, clean, and freshen. Then, when we enter our own homes, we'll feel that sense of peace and joy that comes from being home.
I'll post some before and after photos later this week.