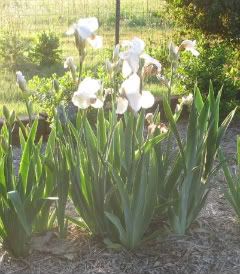 Iris-Dreamy
Do you make an income from your creative endeavors? If not, do you hope to someday? If so, what challenges does this present in your life?
I have a skewed viewpoint about this since I've always made a dollar or three from my pursuits.In high school, I worked in photo darkrooms during the summer. Photography put me through college and introduced me to The Pilot Guy. As newlyweds, we supplemented our income with our cameras. Eventually, we opened our first studio business together. When The Pilot Guy took to the skies as a commercial pilot, the studio became my baby.
Over the years, I've received checks not only for photography, but writing as well as cross stitch patterns I designed. It feels good to get paid for doing something you love. It also adds pressure for you to perform to someone else's expectations and on their timing. Then there is the pesky business aspect of it all. Taxes, accounting, marketing, and customer service. It is enough to give a girl a headache.
It's all good, but it can be a challenge. We are up for a challenge, aren't we? Off and on over the next few weeks, I'll write about some of the lessons learned in making your creative life an aspect of your income producing life. We creatives don't always get the left-brain, make-the-numbers-line-up, stay-organized parts of running a creative business. What's normal and natural to me scares the daylights out of others, but fears and qualms and obstacles can be dealt with. Buckle your seatbelt!
Do you make an income with your artistic skill? What parts of that do you struggle with the most? Leave your answers in the comments section.
By the way, I just finished an interview with a terrific author. I'll get it written up and posted in a day or two. Don't miss it!