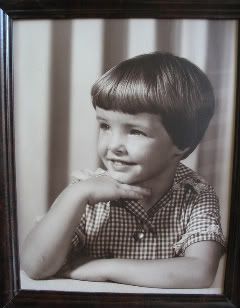 My hairstyle hasn't changed much over the years, has it?
Today is my birthday. We were fortunate to have friends here from Belgium. What a delight to spend time with them.
You gardeners will appreciate that The Pilot Guy brought me a couple of boxes of rocks from one of his last trips. Nice golf ball sized rocks to put around a fountain in the front beds. You just gotta love a man that brings his honey
rocks
.
I also got a nice new radio for the back porch (sigh...listening to the Texas Rangers on the radio, swinging on the porch swing, sipping iced peach tea, and leafing through a Southern Living magazine...is there any better way to spend a Sunday afternoon?) and an automatic water timer for the veggie garden. Does my family know me?
I'm a fortunate lady.