It's a done deal. I'm no longer a homeschool mom.
Our youngest graduated last Saturday in a private ceremony here at our house.
Private in that no other students graduated with him, but not at all exclusive. We invited many people who've had an impact on N's life. From church, from his baseball team, from neighbors and long time friends...and of course, the relatives...we estimate about sixty people crowded into our home. The original plan was to have the ceremony in the house with a huge Italian themed supper in the gardens. An inch of rain (on top of several that week) nixed that idea. Instead we moved furniture, set up tables, and had a cozy buffet supper indoors. Purple and gold abounded.
We had a little fun with the ceremony, using the traditional words of a wedding ceremony to begin...dearly beloved, we've gathered here to unite N with his diploma...if there are any objections. GRIN Of course, I had to demand he turn in his last research paper. wink, wink. We asked a couple of long time friends to share a few stories and thoughts, then opened the floor to others. Several people, including big brother, K, shared funnies and sweet sentiments. Finally, after a few closing thoughts from my husband and me, N was officially graduated.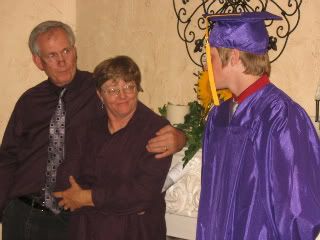 It was a blast! Literally, in that we set off a selection of fireworks after dark...but also worth every hour of time we put into planning, prepping, and implementing...just like homeschooling. Lots of work, but worth the effort.
Mmmmmm...ice cream sundae bar. Sweet fun.
Even though I've been looking forward to this day for a while, I still can't quite believe that my official homeschool days are done. Whatever will I do with my time now? ;0)