Sweet. Tangy. Juicy. Meaty. It's tomato time in our garden.
I measure the success or failure of a vegetable garden by whether the tomato crop is good.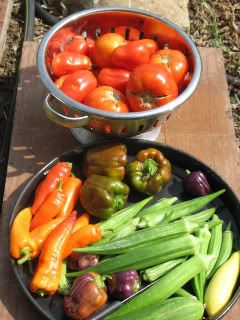 This is a successful year. Even if we've had to share more than we wanted with the rabbits and mockingbirds. The Pilot Guy's dad used to say that a summer where you could go to the garden with a salt shaker and enjoy the tomatoes was a good one.
One of my favorite summer lunches is
Caprese
Salad. Light and refreshing, this salad showcases fresh garden ingredients and is simple to make.
Caprese

Salad
One or two fresh tomatoes.
Homegrown or vine ripened from your local farmer's market are best.
Fresh

mozzarella

.
We like good fresh
mozzarella
. We usually buy ours at Central Market, but I found good quality at Sam's Club last summer. You just have to buy a lot at Sam's. The amount of cheese you use depends on how many tomatoes you use. If your ball of
mozzarella
is smaller than a tennis ball, you'll use at least a third or half with your two tomatoes.
Basil leaves.
Nothing goes better with tomatoes than fresh basil. Two or three inch long leaves snipped into strips should be enough. If you don't grow your own basil, you can find bunches at the grocery store. Try growing your own. It's easy. By the way, this is not the time to drag out the dried stuff from the pantry.
Caprese
Salad is all about fresh ingredients.
Red onion.
A few thinly sliced pieces of red onion sprinkled in will add a needed kick.
Salt and Pepper.
Slice or chunk the tomatoes and cheese into hearty pieces. Snip the basil over the tomatoes. Add the thinly sliced onion. Stir if you have chunks. Leave it alone if you have pretty slices to arrange. Add salt and a few grinds of pepper.
We don't dress this any other way. I've tried olive oil and balsamic vinegar and enjoyed it. By far the best way to eat this is without anything. A hunk of rustic bread is nice for sopping up the juices in the bottom of the plate.
In my next post, I'll add a couple more of our favorite tomato recipes. Until then, I hope you can find a taste of summer tomatoes.
See you in the garden....