Join me for a little Christmas tour.
The fireplace and Christmas tree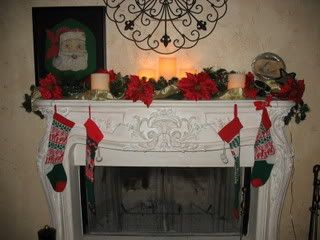 Every ornament on our tree has been collected over our thirty years of marriage. In fact, we have an ornament from our first year of dating. The Pilot Guy made one for us at a fund-raiser at the college we attended. That blue ball is precious and often the first ornament we hang on the tree.
Naturally, we have an ornament for each son every year, too. Some years have more ornaments representing them than others. During our travels in Europe we collected all sorts of things to use as ornaments from each country we visited. Key chains were pressed into service often, but we also have our ski lift passes from skiing in the French Alps, and an authentic Austrian cow bell.
Ornaments that are hand made are very special.
I made these red fans with my mother. We were outside the isolation chamber my dad was in while in the hospital in Houston.
Popsicle airplanes we made when Kevin was nine and Nathan was four.
One of my most precious possessions is this Santa face. My mother drew and colored this guy when she was pregnant with me. This Santa is celebrating 51 Christmas's this year.
Thanks for taking a bit of a tour this morning. It is pouring rain out, so no outdoor decor for the moment.
By the way, today Karla over at Karla's Cottage is having a party. If you want to see more holiday blogs, hop on over and check it out. http://karlascottage.typepad.com/karlascottage/2007/12/its-party-time.html?cid=93285780#comment-93285780
Thanks again for visiting!