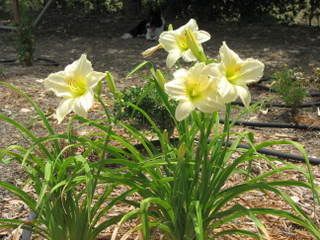 Daylily 'Congeniality'
The blossoms last from morning until night, then are gone.
I shall pass through this world but once,
Any good therefore that I can do, or any
kindness that I can show,
let me do it now.
Let me not defer, not neglect it,
For I shall not pass this way again
Do it now.
I'm a champion procrastinator. I've made a sport of putting off until tomorrow....or next week....or next year, things I want to do. I'd like to pride myself on being a seize the day kinda gal. But, too often, I'm not.
This Christmas season, I'm regretful. A friend living in California won't live to see this Christmas, much less the next one. Her health took a sudden, frightening, and unexpected nosedive this fall. For the past two summers, I've thought about visiting, but never quite pulled the trigger on the plans. Now, unexpectedly, it's too late. As final and quiet as a door clicking locked. Too late to make memories together. Too late.
This is but one more incident in a lifetime of missed opportunities. Add to that the death of my sister in law, several acquaintances and a friend or two this year. So many tables will have an empty space this season. Many of them unexpectedly so...but car accidents and sudden health crisis happen all too often.
My advice (and my motto at the moment)Do it now. Especially in this Christmas season. Give the gift. Send the card. Say the words.
Seize the opportunity to tell someone how much they've meant to you. Focus on the positive. Express gratitude. Celebrate the good things. Forgive the hurts. Seek to understand someone else's point of view.
Develop a legacy of laughter, gratefulness, and loving, even in the face of challenge and difficulty.
Do it now. Whatever has popped into your head while reading this...do it now.
After all, next Christmas it may be you who is missing from the feast.