Apple Pie ala Mode
The Pilot Guy and I had just sat down to a casual Sunday evening supper of baked brie with almonds and garlic, crackers, sliced avocado, and a glass of wine when the Food Network advertised a show titled, "My Best Meal Ever.' Instantly, I thought what a cool topic for memior Monday. We love to eat around here.
What's the best meal (or food) in your memory?
Was it a fancy sit down affair or a casual picnic?
Where were you?
Was the food cooked by your own hands or someone else's?
Who ate with you?
What about the meal made it memorable?
What meals emerge from your childhood memories?
Any fun memories of your own children's food preferences?
It's all things food today...have fun!
One of my favorite meals was in Oban, Argyle, Scotland while we were waiting for the ferry to take us to the Isle of Barra. Our B&B hostess had recommended a local fish and chips eatery for our lunch before we caught the afternoon ferry. I can't remember the name of the place, unfortunately, but it was a little take away shop with a bright yellow front. And busy. We arrived just as they were opening for the day and already there was a small crowd. We ordered and our hot fish came wrapped in paper. We stepped out the shop and strolled down the street to sit on the wall surrounding Oban Bay. There, we unwrapped our treasures. Hot, flaky, freshly fried fish fillets, dusted with salt and splashed with a malt vinegar and surrounded by fries (or chips as the English and Scottish call them.) The warm sun, a cool breeze, the lap of waves and the cries of sea birds...the smiles of my sons and the happy chatter of our conversation made this meal one of our finest. We've had fish and chips since - in fact, The Pilot Guy and I had some terrific ones seaside in Vancouver last summer--but none will ever beat that moment.
PaJo's Fish and Chips, Vancouver, B.C.
A meal that has become a family 'legend' happened in France. We were in the burgundy region staying in Beaune. (Pronounced 'bone.') I really wanted to have Boeuf Bourguignon while in it's home of orgin. We didn't travel with too many dressy clothes, but we scrubbed up to the best of our ability and donned our travel finest, all the while impressing on our 15 year old and our 9 year old to be on their their very best manners. The inn we were staying at helped up locate the "Cheval Blanc' restaurant (white horse-and yes, that's one of the reasons we picked it.)

The restaurant was gracious and not as fancy as I'd feared. The Pilot Guy started his meal with escargot. I don't remember my starter. I think I was too fascinated by the escargot. Yes, I did steal one. Me, eating snails. Who would have ever believed that! Our 15 year old had something as well. Our little guy didn't order an appetizer. The restaurant graciously brought him a lovely slice of smoked salmon so he wouldn't be the only one not eating. I'm pretty sure it was the first time he'd had salmon. He enjoyed it.

After our meal of Boeuf Bourguignon, the cheese cart came around. It was a good sized cart with a huge assortment of cheeses. The Pilot Guy chose three or four to try. One he was familar with and the rest were best guesses. One particular selection was cut into one inch cubes and covered with herbs. It looked like something soft. However, when he tried to cut into it, it slipped from under his knife and shot away just like that funny scene in Pretty Woman. The cheese bounced off the wall behind him. The boys' eyes grew huge and I thought giggles would swallow them whole. Here we were trying our best to be on our best behavior in a French restaurant and Dad is throwing cheese against the wall. I'm pretty sure the 9 year old almost slipped out of his seat because he was trying not to laugh so hard. To hear the guys tell this story makes it even better.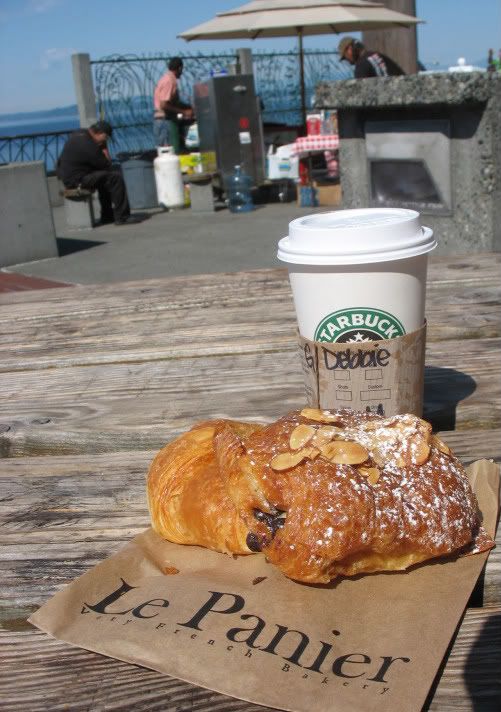 Coffee from the original Starbucks in Seattle. Apricot Croissant from French bakery
I'm lucky enough to have had lots of great meals to choose from. Fried chicken dinners at my Mamaw's house. Brisket and homemade ice cream at my in law's home. Campfire breakfasts with my family. Some super suppers right here in our own home. Lots of memories are made around the table.
Is it time to eat yet?