I'm amused when I look through old photos of my parents, especially during their dating years, at how often the young couple was posed in front of their car.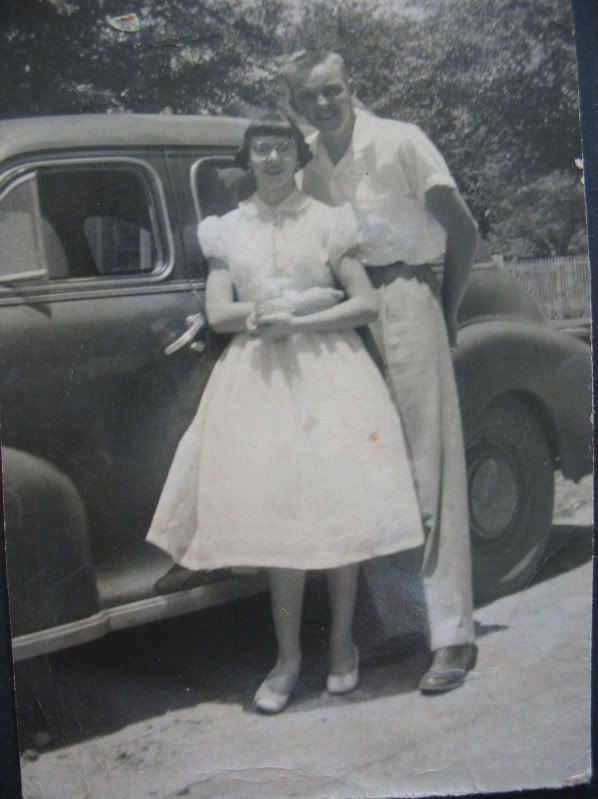 My mom and dad
There are a number of reasons for that, I'm sure. Fifty years or more ago, film definitely liked the bright sunshine and flashbulbs were expensive. Photos were done outside. Secondly, those cars were a great big purchase...still are today, too. There is just something about those hunks of metal and combustion that make us happy. I'm even more amused to find a number of photos of me in front of my car. Cars are nice and all, but you'd think there would be more photos of me with a dog.
So, what did your first car look like? (Or what was the most interesting vehicle you've ever driven?) Was it given to you or did you slave at some job to purchase it? Standard or automatic? How old were you when you learn to drive?
My first car was a Ford Maverick I shared with my mom.
My mom and I
Mavis as I called my little vehicle, was an odd grass green color. No air conditioning and black interior. We are talking Texas here, folks. Can you say hot? We kept towels in the car to sit on, especially in the summer. I sorched my shorts clad legs several times before I figured out the towel thing. Mavis was also a standard shift car with the gear on the steering column. It was an adventure learning to drive in traffic while also learning how to shift gears. My mother said if I learned how to drive a standard I could drive anything. How right she was. I've driven all over Europe in standard shift models. I've driven tractors and an eighteen wheeler. Thanks, Mom, for teaching me how.
Look, here is one of the Pilot Guy and I in front of Mavis.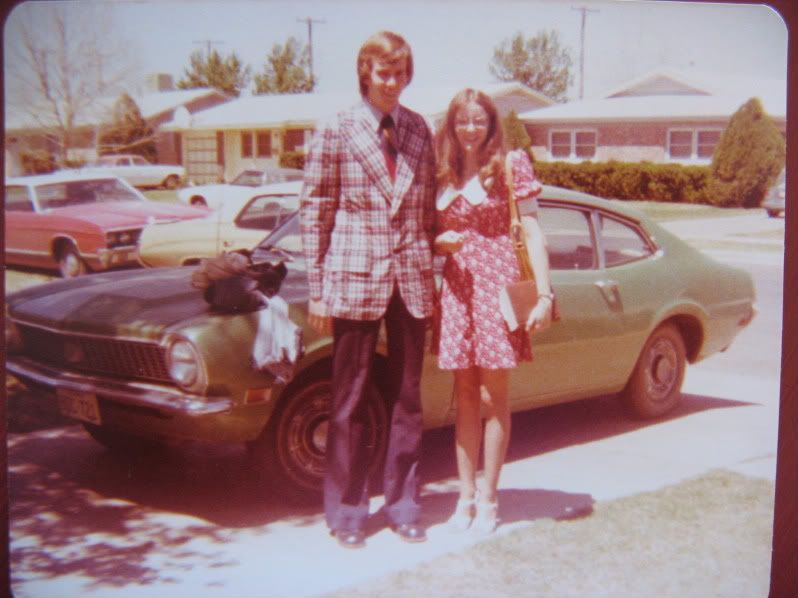 We hit the jackpot here because we not only have a photo of Mavis, but we have a glimpse of the Pilot Guy's red LTD in the background.
One last note...every dress I'm wearing in these photos I made with my own little hands.
We had a great little car in Europe. I'll have to write about that car some day soon.
Alright, people, show me your first or favorite car. If you post photos on your blog, come leave a comment here so we can traipse over and enjoy.