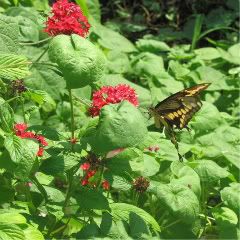 A week or two ago, some of our favorite people came for a visit~the Pilot Guy's youngest brother, his wife, and two teenagers. Together we shopped, watched baseball games, shopped some more, ate too much, stayed up too late, and laughed a lot.
In my growing up family as well as the Pilot Guy's family, relatives were welcome in our home all the time. In fact, it was a sign of something gone terribly wrong if the relatives didn't stay in your home.
Today's Memoir assignment is to write, draw, paint, or compose about your
remembrances
of family visits. Vacations, holidays, or other trips...who came to your house?
Did Grandmother and Granddad kick you out of your room? Did you have cousins sleeping on pallets on the floor of the living room? Who did the preparations for visitors? Did everyone pitch in to help clean and cook? Were you a formal bunch or loud and rowdy?
Was your family one of the ones that never hosted guests? What are your memories of being a guest in your grandmother's or aunt's home?
How have you changed from how your parent's or grandparent's generation did this?
I can't wait to see what you dig around and find in your memories this week.
One other thing...some of you know we are in the middle of planning a wedding this month. In fact, it is in less than two weeks. (YIKES!) In our backyard. (
August.
Texas
.
Outdoors.
Are we brave or what?
) I'm not blogging much because I simply don't have many working brain cells left at the end of the day. That's too bad, too, because now that I think of it, blogging is relaxing and refreshing. We will see what happens...
After the wedding...some exciting stuff will be happening here at Creative Soul. Thanks to each and everyone of you who read. You make my day!