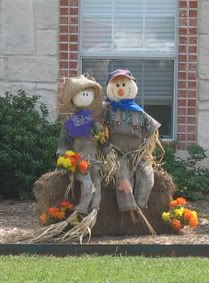 Sorry to disappear on you. Thanks to all who've commented or emailed to find out just where I've been. A round of nasty colds in our family, an out of town funeral that hit me harder than I expected, some writing deadlines, and a bunch of commitments at church have kept me away from my blog. I've been blogging in my head. Great blog posts. Inspiring. Creative. Motivating. I'm so sorry you couldn't read them. They were really quite good. Really.
A couple of random thoughts....
I found this quote in a gardening article. It's a what kind of gardener are you type article. Here's what they had to say about someone like me.
Artists, collectors and nature lovers enjoy the process of gardening. They garden because they like the feel of the earth and the smell of the flowers and the sound of birds singing. They have varying degrees of tolerance, but in general their gardens are unkempt, cluttered and inhabited by a host of creatures. They prefer to be outside, so they willingly spend the extra time required by hand tools. They welcome visitors, but love to be alone in their gardens to work and putter and enjoy.
Yes.
Random thoughts continued...
Today, The Pilot Guy and our youngest, The Baseball Guy, helped process and pack Magi Boxes. If you've ever been a part of Operation Christmas Child or Operation Shoebox, this is a similar program. Find a shoebox and fill it with small items like clothing, toys, toiletries, and treats. Our little (but growing) church put together 114 boxes to be sent to children in the Dominican Republic in time for Christmas. Last year, we did 48. Wow.
Despite the growing economic downturn, people find satisfaction in bringing joy to children they will never meet. I'm always humbled and inspired by when working with the Magi Project.
And one last random thought.....
A pithy quote The Baseball Guy found the other day.
I wish my imaginary friends would quit arguing with the voices in my head.
Snort. Snicker. Giggle. Why do I resemble that remark?
Coming up....
Beth from Being Beth sent me photos of her creative space...The Cave. Stay tuned. I'll be posting those very shortly.
Wow, I've missed you all. I'm delighted to be back. Thanks for visiting Creative Soul.