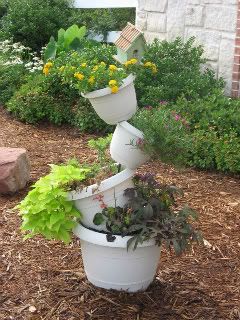 A few days ago in an over-the-fence talk, my neighbor and I were discussing our water wells. Each home in our once country sub-division has a private well. Drought plagues our area these days as it has in years past. One of my worries in the extended and severe drought of two years ago was our well going dry. Through out the dry summer that year, I happily watered my gardens. Until, in late August, we began hearing about wells in nearby communities or bordering counties going dry. That gave me pause and caused me fear. Without a well, our house would be worthless, since all of our watering needs, from drinking water to car wash water, comes from underground.
My neighbor assured me that our wells were deep enough. Not only are they in the aquifer, but they are deep enough to actually be in the Trinity flowing beneath us. Where the Trinity breaks out above land, it is a mighty beast, especially by Texas standards, where we are tempted to name and honor the trickle from a garden hose. The banks of the wide, deep Trinity were the first settlements in this area.
As I went about the rest of my gardening tasks that morning, I loved thinking about the abundance of water under my feet. It was like having money in the bank, a rich and endless savings account.
My creativity is often like that. Buried beneath the surface, waiting only for me to tap into it. But like the Trinity beneath my feet, my creativity can be difficult to get to. In this part of Texas, there's a thick layer of hard, white limestone just a few feet below the black clay. Recently when our neighbors to the west put in a pool, a back hoe spent two days pounded that layer of stone in order to break it up so it could be scooped up. The pounding noise was incredible. The hunks of stone lifted from the pit, immense. In the end, my neighbors have a sparkling pool for their entertainment.
My own doubts layer over my creative flow hindering my access. Add to that layers of 'scar tissue' from past hurts and disappointments, or even layers of fears and the well of creativity can be very inaccessible.
How to access the fresh sweetness within?
Well, my neighbors with the new pool will tell you it takes hard work. In either my writing or photography or gardening, it takes showing up, thinking, and doing. Sitting down at the computer is the first step to sinking a well so the flow of words can be pumped to the surface.
Stephen King says in his book, 'On Writing' to show up in the same place at the same time every single day. Pretty soon, he says, your muse will learn the schedule and show up, too. The words and images will flow then.
Early in my writing career, I compared writing to water. Some days, the words gush out of you onto the page like water flowing, clear and sweet, from a pitcher. Other days, before the words can pour from the pitcher, the writer has to go out and dig the well. With a spoon.
What's challenging in your creative life these days? Are you working through a hard layer? Is your creative well producing a strong sweet flow?
This is my 100th post in my year long blogging adventure. Thanks for reading.