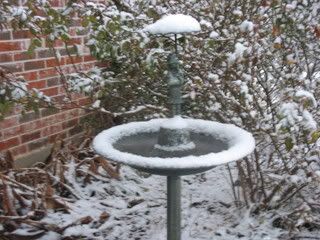 You know the feeling.
You've poured time, effort, and skill into a project that simply doesn't work out the way you wanted. Or you're pleased with the results of your efforts, but public reception is, shall we say, lukewarm, at best.
Sigh.
I hate that feeling, even though I know it is a part of life. Especially a creative life. Right now, I'm tired. A creative project took up most of my time and energy this week, but the total results were less than stellar. I'm disappointed to the point of grouchy depression.
Here's my methods for dealing with the disappointment:
1. Get some rest. Often after a big project which has taken enormous effort, I'm plain and simple exhausted.
Out of gas.
Spent.
Time for some quiet time. Read, doodle, swing on the porch swing, or go fishing. Sleep in or take a nap. Rest. Eat well. Everything looks better when you are not emotionally, physically, or
creatively
exhausted.
2. Get some perspective. Maybe the endeavor turned out better than the first reactions indicated. Review your writing. Take another look at your painting. Look over the project. What did work out well? What are your favorite parts? You initial disappointment might be tempered by realizing what was right about what you created.
3. Get real. Sometimes its true. What we did was awful. Not up to snuff. Poor. Acknowledge it, analyze it, learn from it, and move on. The first few times I read a piece at my writer's group, their critique was tough to take. Especially if I'd polished the words quite a bit before taking them out for an 'airing.' After the buzzing in my ears quietened down and I looked at my work with a fresh eye, I had to admit my critique buddies had point. In fact, I could reluctantly admit, they were often right. I absorbed the new knowledge, learned from it, and put it into practice with my next writing session.
Yes, I'm disappointed in this week's challenges, but I will not think of myself as a failure. I *choose* to think of myself as a student, always learning. With rest, and time, I'll be able to properly evaluate the situation's results. Next time I take on this particular project, the outcome will be different. Until then, I'm going to be kind to myself.