According to my local newspaper, today is National Pie Day! Ummmmmm, is there anything better than pie? Maybe ice cream....pie and ice cream together, now that's heaven.
Coconut cream is The Pilot Guy's favorite. Lemon Meringue is mine. Unless you count The Pilot Guy's Mom's Cherry Pie. Yum, so good. Or the rustic apple pie The Pilot Guy makes. Then, there is the luscious chocolate pie recipe that is too good to be true. Did I mention we love pies?
Here is a favorite and easy pie recipe you can celebrate the day with. (This one was part of a newspaper contest last spring.)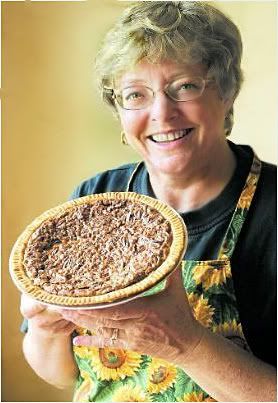 Storm clouds over Head Pie

Storms in the Texas panhandle can be vicious. Hail, high winds, flooding rains are all part of a spring storm. As a newlywed, I lived with my husband in a mobile home on a farm thirty miles from town. Storms are loud and rowdy in Texas, but from within a mobile home, they sound much worse than they really are. Every noise is amplified by the metal roof. To keep my nerves from coming unraveled, I learned to bake pies during storms. Sometimes, I'd make three or four pies if the storms lasted a long time. With a gas oven, I could cook even when the power went out. With the radio blaring weather reports and the storms raging outside, I baked good, old-fashioned comfort food.

Storm Clouds Over Head Southern Chess Pie,

1 cup brown sugar, packed
½ cup granulated sugar
1 Tablespoon of flour
2 eggs
2 Tablespoons milk
1 tsp. vanilla
½ cup butter, melted
1 cup pecans or walnuts, chopped
1 unbaked pie shell

Mix brown sugar, packed, granulated sugar; and flour.
Beat in eggs, milk, vanilla, and melted butter.
Fold in 1 cup pecans or walnuts, chopped.
Pour into unbaked pie shell.

Bake at 375 degrees for 40-50 minutes, until just set.


Pie Crust—
Better than my Mother's Pie Crust
Makes two 'generous' crusts.

3 Cups flour
1 tsp. salt
1 ¼ cup shortening
5 Tablespoons Water
1 egg
1 tsp. vinegar

Cut shortening into flour and salt until it looks like coarse cornmeal.
Beat water, egg and vinegar together.
Stir liquid mix into flour mixture.
Gather into a large ball.
Chill.

Pinch off enough for a crust, roll out to fit pan.
Bake one crust 10-12 minutes at 425 degrees.

This recipe can be kept in the refrigerator in a covered container for 2-3 weeks.


My mother never could make good pie crust. Eventually, she quit trying and simply ordered pies from a shop. I wanted to master the art of the crust. As a newlywed, I found this recipe. We've been enjoying it ever since.