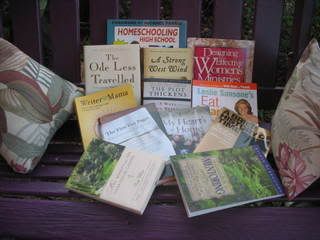 Summer's almost done but my reading list is not. How did that happen? In fact, the list is getting longer. A sale at a bookstore will do that.
Years ago, while running my photography business, I would rise before the sun to spend an hour reading, studying, and thinking. I like getting up early. I love thinking and creating new ideas. Why am I not doing this now?
Bad habits. Things like hitting the computer message boards before breakfast or watching re-runs of JAG. Or just plain piddling.
If it were quality things like spending time with The Pilot Guy or exercise that would be different. Both of those things deserve their own catagory of time devotion. But I'm just not getting things done.
Time to do better. Dust off those old habits and get back into them. Hopefully, they'll fit like well worn and comfortable shoes.
Look for reviews of these books in coming posts.
What?
What's that you're asking?
Oh, you want to know the titles and author names of the books on the reading lists? Why? Will there be a test? No? Yes? Maybe?
Well, okay, here they are in no particular order:
Homeschooling High School by Jeanne Gowen DennisDesigning Effective Women's Minstries by Jill Briscoe, Laurie Katz McIntyre, and Beth SeversenEat Smart, Walk Strong by Leslie SansoneA Strong West Wind by Gail CaldwellThe Ode Less Travelled by Stephen FryThe Plot Thickens by Noah LukemanA Brief History of Time by Stephen HawkingA Garden Path to Mentoring by Esther BurroughsWriter Mama by Christina KatzThe First Five Pages byt Noah LukemanMy Heart's At Home by Jill SavageMrs. Whaley and Her Charleston Garden by Emily Whaley in conversations with William Baldwin
Happy reading!