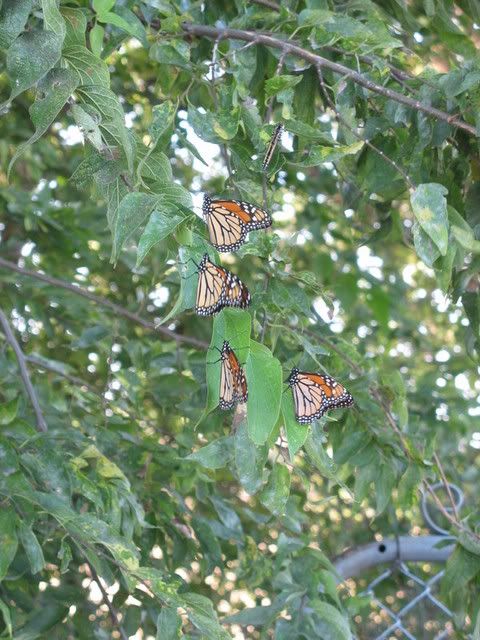 They're back!
Saturday morning, I went out to Amy's Garden to putter around. Although I did pull a few weeds and harvest some seeds, I ended up sitting in the swing for a bit. Sun glistened on the grass and flowers like jewels. Cool fall air felt crisp on my face. The happy chirping of birds, the quiet squeak of the swing and the occasional drop of a leaf were the only sounds. A lovely morning.
Only when I raised my voice to call the dog did the air explode with butterflies. They'd been quietly sleeping in the trees less than three feet away. My voice startled them into a cloud of orange flutters. Imagine my delight in being caught in the middle of the storm.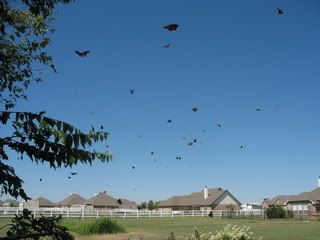 Two years in a row, our place has been a Monarch Rest Stop. Last year a hundred butterflies rested in our trees for a week while waiting for the next cold front to help them on their way to Mexico. This year, September's ninety degree heat has kept the monarchs from migrating. You see, they travel when the temps are in the eighties or lower. Plus, they love to ride the wave of a cold front to push them toward Mexico. When the weather is too hot, they find some trees to hang out in and rest.
I love it when they visit. We've filled the yard with all kinds of butterfly blooms; lantana, penta, salvia, Mexican bush sage for them to feed on. Trees provide shelter and we are always watering something so water is available for them.
Seeing those monarchs inspires me. When I see them hanging in the trees I'm reminded of perserverance. They are so small and their journey very long. They don't look strong enough to make the trip. I wonder if they doubt their strength as I do mine sometimes. I wonder what untold stores of energy, drive, and passion I have to fuel my pursuit of dreams, creative and otherwise.
The butterfly's beauty makes my fingers itch to photograph them. If I could paint or draw what my mind sees, I'd put brush to canvas. Seeing the intricate patterns edged in black makes me want to take up stained glass design.
Their hunt for nectar reminds me to seek the sweet in my life. Look for the pretty and indulge in the best. I have a talk I give to women's groups about the choice we have to be a hummingbird or a buzzard. What do we *look* for in our lives? You find what you seek most of the time.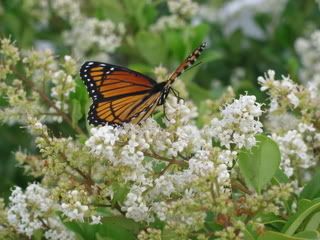 I also love the way monarchs float, flutter, and fly from place to place. How graceful. How relaxed they look.
And when I startle the group, I love how they flutter over my head. I want to fly with them. At the very least, I want to dance.
Since Saturday, thunderstorms have rolled through our area, powered by a cold front that finally brought us fall temperatures. The monarchs have moved on, riding the wave of cool air further south.
Pursuing their goals and, hopefully, enjoying the journey.