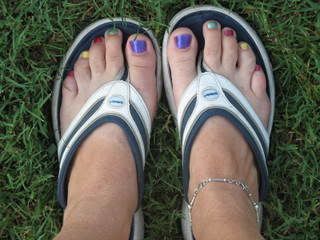 Creativity has an element of fun for me. Or maybe that's fun has an element of creativity. It goes both ways.
At any rate, multi-colored toe nails are a summer tradition for me. I get looks and great comments from total strangers such as a lady in Boston who stopped me at a tourist site to ask where I got the idea or the lady on the subway in New York who took notes on the colors I used. (Purple, green, crimson, yellow, and hot pink) Who says New Yorkers aren't friendly? Even male friends notice and smile.
And that's what those bright colors are all about...making me smile. If it makes others smile, then so much the better.
Who would have thought a few cheap bottles of nail polish would bring happiness every summer day?
Doing something fun, even silly, always generates some creative ideas. Maybe it is because to have fun a person has to let loose a bit. Letting loose of our boundaries or restraints can help our artistic endeavors reach new heights. Do something silly - a new hat? clown glasses? multi-colored toenails? Just keep it harmless. Add some just plain fun to your day with a bike ride or a snow cone.
When you are ready, create. Let me know what results.